Our ethos is rooted in the provision of natural products that are ethically sourced, environmentally friendly and biodegradable. We also do our utmost to ensure our internal processes are as streamlined and efficient as possible.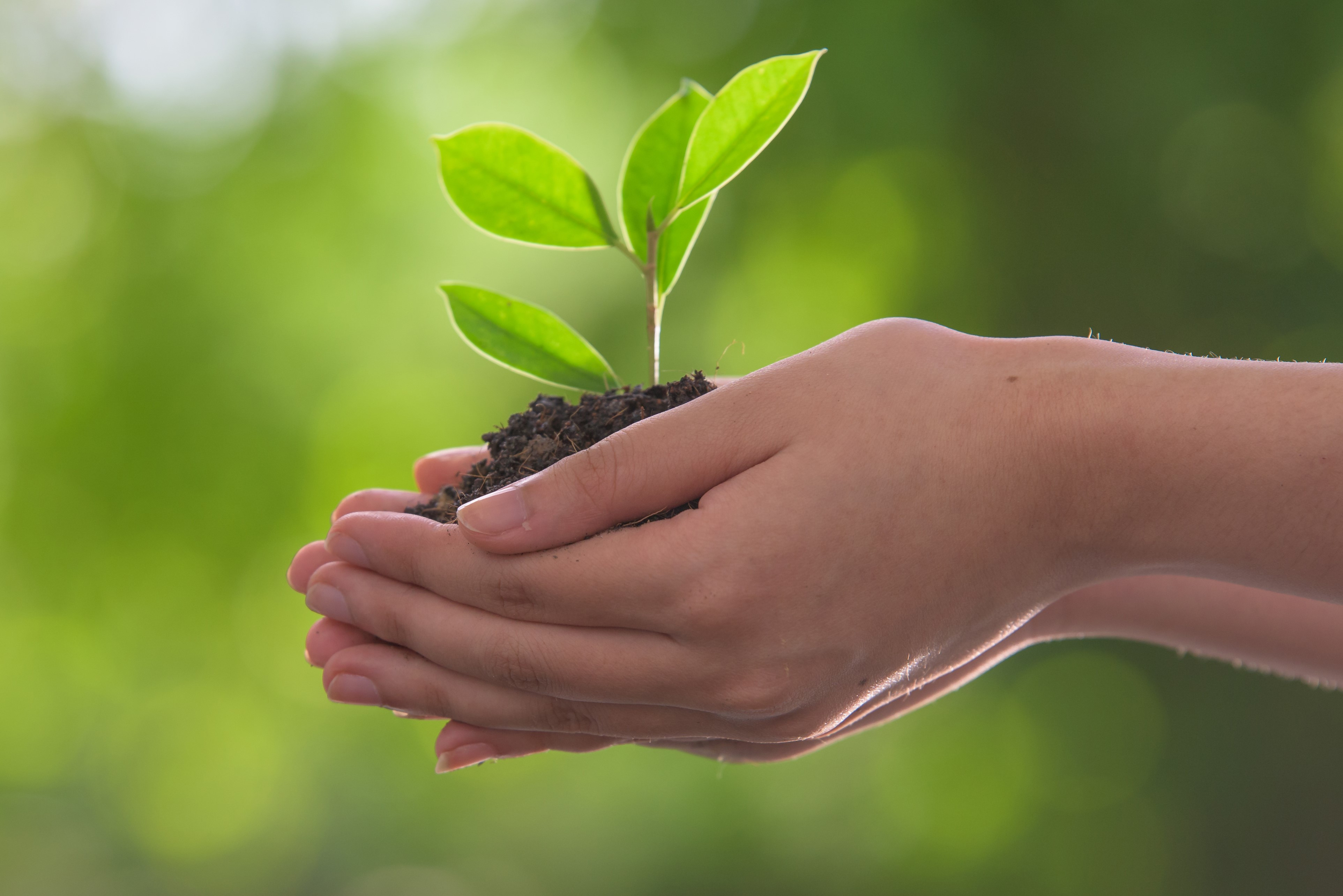 Sustainability Information
Our ethos is rooted in the provision of natural products that are
ethically sourced, environmentally friendly and biodegradable.
We also do our utmost to ensure our internal processes are as
streamlined and efficient as possible.
What's in the bag?
All our products are made from natural fabrics including cotton, canvas, linen and jute (and in some cases a blend of these such as linen cotton). The cloth used in the manufacture of our natural products is "loom state" and is exactly as it comes off the weaving looms – with no added chemical additives, bleaching or dying.
Cotton is a 100% sustainable, long-lasting resource that will completely bio-degrade quickly and safely (unlike plastic, which takes many times longer to degrade and emits harmful gasses while doing so). We take great pride in providing durable products to withstand the test of time. The average lifespan of our bags is many years (we've had reports of our bags lasting over 12 years), but even when they do wear out, they can be torn up or shredded and put straight onto your compost heap. Please see our FAQs page for more information on recycling your cotton bags!



How do we source our products?



As the raw material itself is not indigenous to the UK, trading fairly and ethically with suppliers where it is grown is very important to The Clever Baggers. We have devoted a lot of time to this issue, to ensure the products we buy have been produced in an environmentally and ethically sound manner.

We purchase most of our products from carefully chosen suppliers in China and Europe. We do not dictate the price we pay for these products; we accept prices offered so long as they are commercially viable.

We regularly carry out supplier audits which cover process, quality, social and environmental aspects. We also visit our suppliers and follow their supply chain from the source, to ensure compliance throughout the process.



How do we minimise our carbon footprint?



Because we source products from overseas, we take positive steps towards minimising the environmental impact of transportation. We use sea freight to transport ready-made products in containers of 100,000+ units at a time, which on average lowers the carbon footprint of each item. Our massive stock is all held on site in the UK to minimise the number of deliveries received throughout the year. Because we keep on top of our supply, we can eliminate the need for air freight, even when a quick turnaround is needed. Although the carbon footprint caused by transportation is rather large, we have yet to find an alternative which is lower. We believe our process is as environmentally friendly as it can be – but we always look for ways to improve it.
It's in our hands: the compostable cotton bag cycle
Cotton products are 100% biodegradable and completely compostable. It takes approximately a year from the sowing of a cotton seed into the earth to the production of a finished cotton bag. A natural cotton bag will provide roughly twelve years of continuous use. When it has fulfilled its purpose, it can be shredded and placed in a domestic composting bin or taken to an industrial composting facility where it will provide the necessary carbon elements to the compost mixture.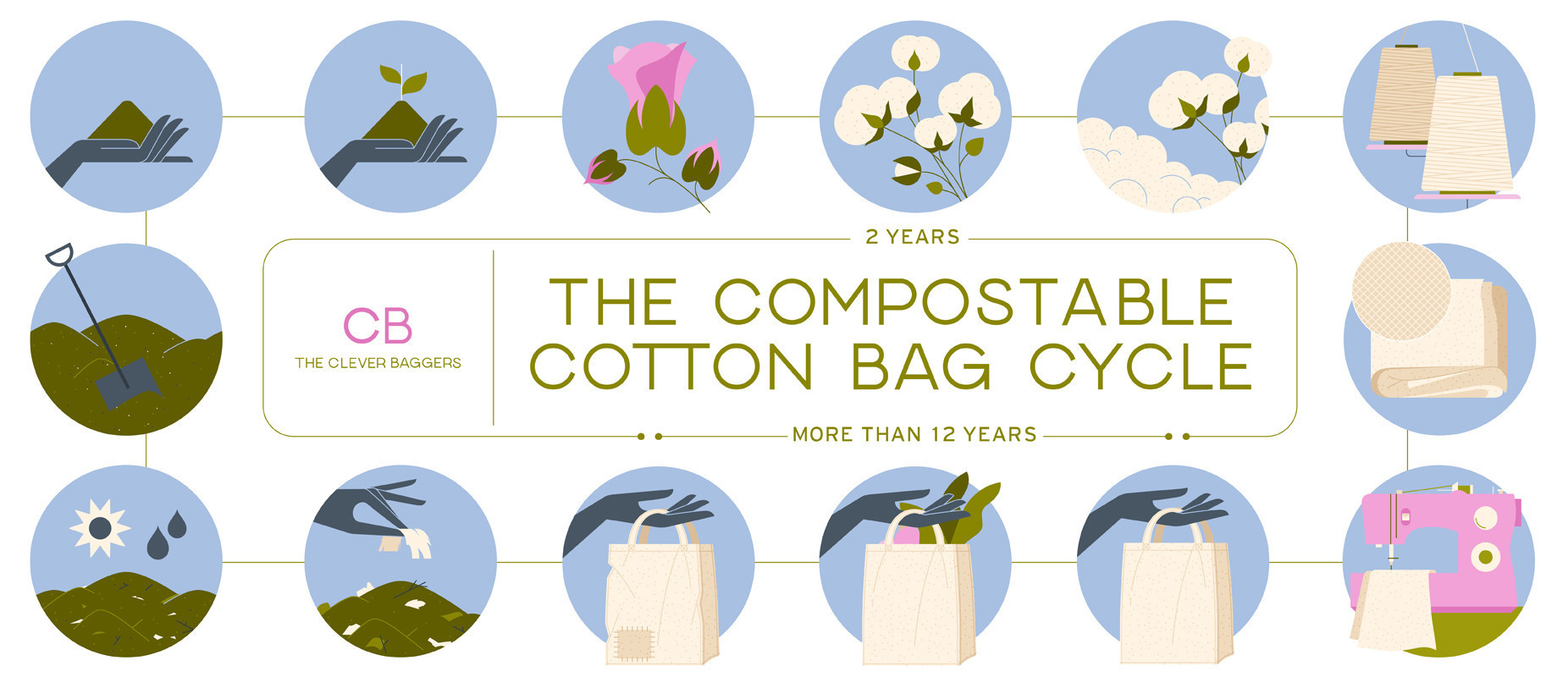 What about other raw materials, such as ink and product packaging?
We've invested a lot in our machinery over the years, to ensure our print processes are also sustainable. We print everything on-site in our mid-Wales factory and our digital and screen print processes both utilise water-based inks. The inks are carefully measured and mixed by hand on an individual order basis, and they're reused and recycled into other colours wherever possible. This makes our colour mixing and printing process extremely efficient and keeps our ink waste down to a bare minimum. As a result of all our efforts, we have eliminated the
need for any chemicals in the printing or cleaning process.

We're also extremely savvy with the packaging materials we receive ourselves. All cardboard packaging is reused to ship out our orders, helping us to minimise the level of new packaging materials introduced into the marketplace. We've also removed plastic packaging from our small order despatch in favour of sturdy kraft paper mailing packs.

Sometimes products get spoiled during the print process. When this happens, we always reuse these for our own purposes – whether that be as cleaning rags, as dish clothes or for running test prints. Some of our staff have even made decorations out of rejected bags!